Phlegm

One Night Stands with Out of Tune Instruments in a Room with Blue Wallpaper
Label: Three Sides of a Circle (3SC) - TSC 7281 / (Re-issue: Pen Thief Records)
Format: CD, Digital LP, (Re-issue: Cassette)
Country: USA / (Re-issue: Germany)
Released: March 2002 (Re-issue: 2021)
Genre: Art-Hop, Experimental Hip Hop, Spoken Word Poetry

all lyrics & vocals by Brad Hamers
music & production by Slomoshun
mixed & mastered by Slomoshun
album art by Jennifer Griffo
recorded at The Fish Bowl, NY




The first and last full-length album by Phlegm. Now considered an underground, outsider, avant-garde cult classic. Phlegm was a collaboration between Brad Hamers (on the words) and Slomoshun (on the music). This debut Full Length record was written and recorded in NY when Brad was 19 and 20 years old. Phlegm released an EP previous to this LP called,
Meta4etry (the tear i spit back up)
in 2001 to accompnay Brad's first published book of poetry, Meta4etry (the tear i drank), which came out in 2000 and is currently out of print.
Recorded 2001
Released 2002
In September, 2021, PenThief Records, out of Berlin, Germany released a Re-issue of One Night Stands... on CASSETTE for the first time. A very very limited run of 2 versions, including a hand-painted 3D printed edition! Check it out below or CLICK HERE.

CASSETTE RE-ISSUE (Pen Thief Records, 2021):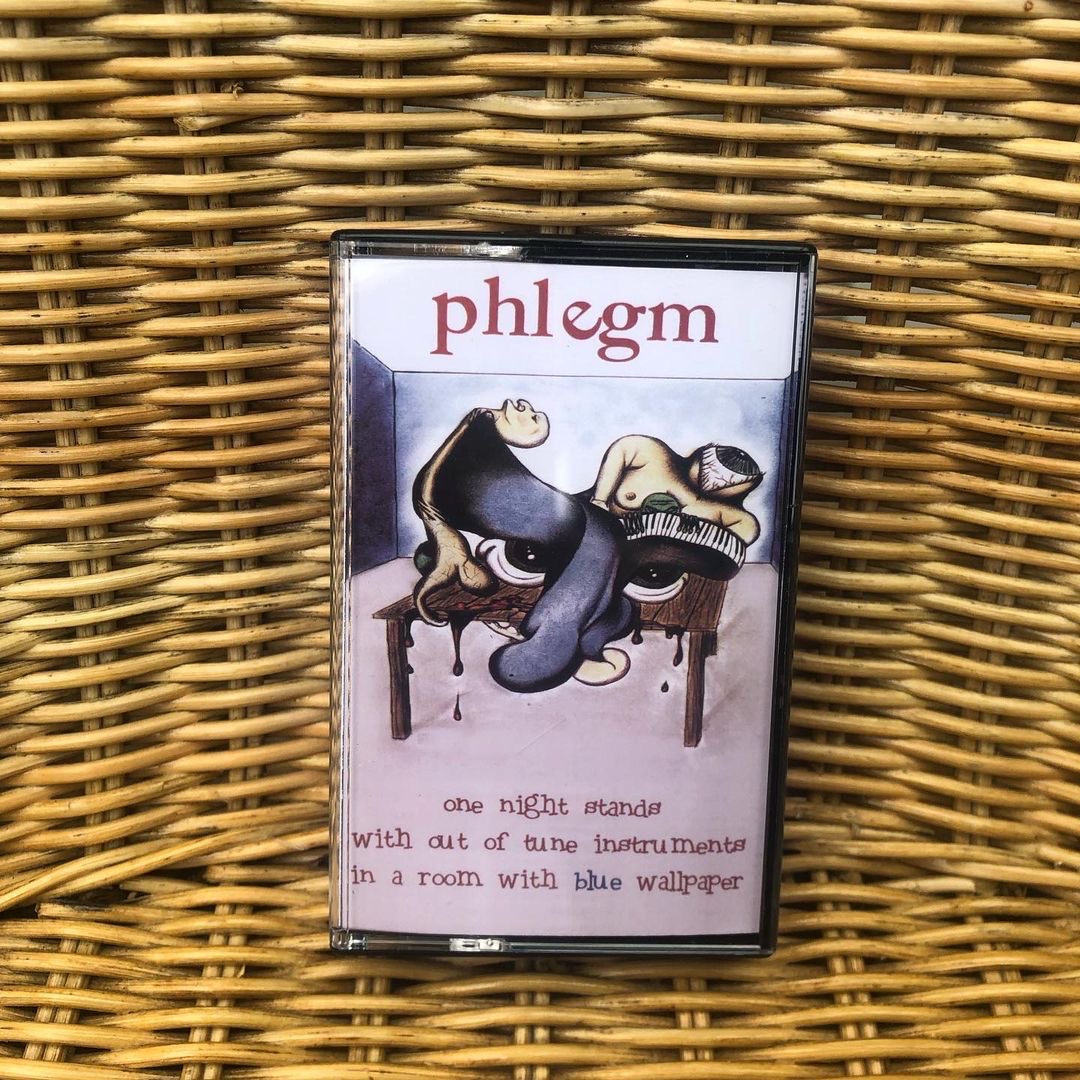 Press:



Review from Hip Hop Infinity .COM (2002):

Rating:
Beats: 3.5 (out 5)
Rhymes: 4.5 (out of 5)
Creativity: 4 (out of 5)



"Although their peculiar stage name probably isn't largely recognizable to the underground nation, Phlegm's spoken word/ emo-hop style will be certainly be familiar. Taking their cue from Sage Francis, Sole, Kunga219, Slug, and others, Phlegm should draw many listeners from the fan base of the aforementioned artists. Heads who especially like the lyrical stylings of those emcees will really appreciate Brad Hamers's freeform abstract symbolism and pessimistic observations. His delivery won't have Pharoahe Monch ducking for cover, but it's solid enough regardless. Slomoshun's production appropriately captures the various moods expressed throughout the album, usually through stripped down instrumentals. His "normal" hip hop beats are among the best on the LP, and had there have been a more generous amount of them, the beats score would probably be higher.
Because he doesn't rhyme the last syllable of his lines, Hamers will inevitably be compared to Sole. This is somewhat inaccurate, though, because while Sole will often place his rhymes in other places, Hamers doesn't rhyme anything anywhere. It sounds like it might be clumsy in theory, but he pulls it off without much trouble, rhythmically speaking. A great deal of the songs are one long verse with no hook, and over the 19-track course of One Night Stands With Out of Tune Instruments In a Room With Blue Wallpaper, this is a lot to digest. Fortunately, the vibe alternates enough between the spoken word type cuts and hip hop influenced ones to keep the album from becoming a difficult listen.

The spoken word influence in Hamers's writing style will be immediately apparent on "One Night Stands," the first cut, and one of the album's better songs. With no drums to guide his flow until well after three minutes, Hamers is backed only by keys, violin, and trumpet, and is essentially left to his own vocal devices to carry the track. His natural voice is pretty ordinary, but his vivid images and unique similes concerning one night stands are poetic enough to stand alone. He does seem to occasionally stray from the topic, ("I haven't been to a funeral in awhile and I think it's because I can't stand the way my father sits when there's death in handshakes and hello hugs"), but as with most of his concepts on the album, he's obviously got an intimate knowledge of his subject matter. From "Undersit," it's quite clear that Hamers is working, or has worked, at some large, faceless corporation. He dismantles the absurdity of the American dream with a fervor that is relatable to anyone whose considered "kicking the manager in the face." In this song and others, he hints at a strong distaste for any indication of conformity, but most strongly attacks the idea on "Thoughts Thinking About Themselves Under a Projector With a Cracked Mirror and an Unfocused Lense." Hamers's angry vocals and Slomoshun's aggressive production are not unlike the rock influenced songs on Amethyst Rock Star.

"The Public Execution of the Man With One Finger," featuring Nobs, is one of the more conceptually palatable cuts here, as the duo ferociously and humorously mock overly macho, subconsciously insecure men. Slomoshun's productions rolls underneath them, with a distorted guitar and keys accentuating their sarcasm superbly. They take a more subtle approach with "Three Hundred Sixty Proof," which details the regret of an alcoholic. Regret is visited once again on "Tip Toeing on a Piece of String," where Hamers discusses a bad relationship. His choice in topics is not always so straightforward, though. "Windows," with its numerous cigarette metaphors, is an exceedingly original song. Best cut honors go to the "Bottle Of Humans"-esque "Who," as Hamers evokes a myriad of emotions over Slomoshun's soulful samples.

From out of seemingly nowhere, Phlegm has delivered an extremely dope pro debut. However, as is the case with many first-timers, they need to understand that less is more. Nineteen tracks is a lot for any album, and although there's no bad songs here, there's several they could have left off easily. The impact of the rest of the songs would have weighed more heavily had they narrowed it down to around fourteen. Not to worry, because it's not a reach to think that Phlegm will grab the attention of quite a few people with this release and rightfully so."

Best Cut: "Who"


-----------------------------------------

Ink19 .COM (2002):

"An erratic, highly idiosyncratic collection of poems read over easy backings — keys, guitar, and basic drum programming, mainly — from the elusive Phlegm, a.k.a. Brad Hamers, with a little help from his friends. Bordering on underground rap styling, Phlegm has an engaging and insistent voice that hammers out the image-heavy poetry, crossing the harsh world of beat with incidental avant gardist ramblings. This kind of thing — poetry read over a repetitive backing — has a tendency to come across as either pretentious or a lame attempt at "communicating in the language of the pop culture." Phlegm, however, avoids most traps by the sheer force of his delivery and the fact that, while the lyrics are the obvious focal point, the music is pretty decent as well, and actually helps to underline the tension of the words. With 19 tracks stretching over close to 70 minutes, the album possibly outstays its welcome, but Phlegm has in any case made an impressive effort that is sure to drawn the listener into his angst-ridden and confrontational narratives."

-----------------------------------------




(photos from live Phlegm shows in 2002):