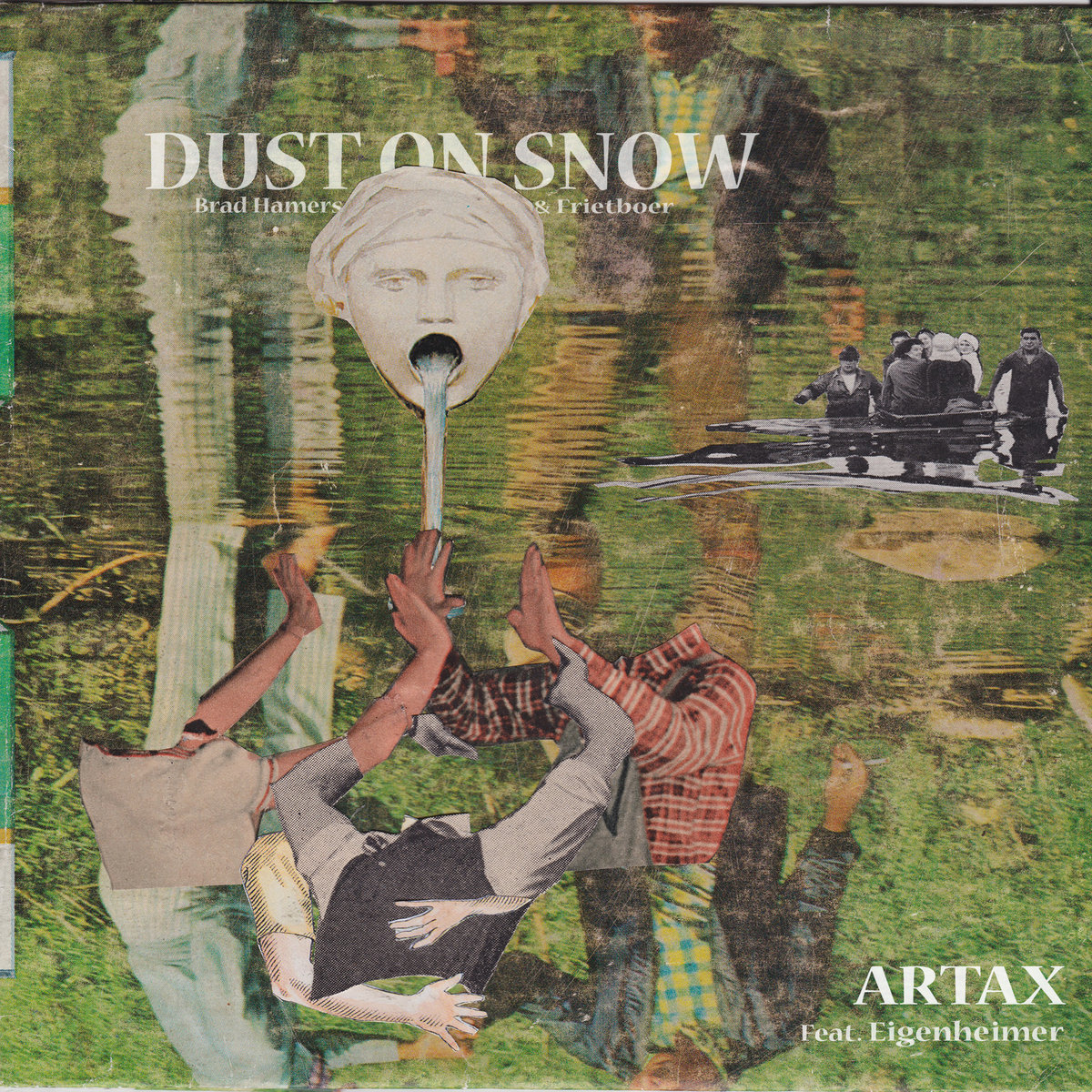 Dust On Snow

Artax
Label: no label
Format: Digital Single
Country: USA/Netherlands
Released: Sept. 2019
Friday, The 13th on a Full Moon
Genre: Art-Hop, OutSpokenWord, Lo-Fi


Music by Frietboer & Eigenheimer
Lyrics and Vocals by Brad Hamers
Vocals recorded at Shrine13, Portland, OR
Mixed & Mastered by Frietboer
Cover Art (hand-cut paper collage) by Brad Hamers
Music Video by jdaugh



Artax is the return of Dust On Snow, the first song Frietboer and Brad Hamers have made together since the release of their EP, "You Were Murdered As A Kid", 8 years earlier in 2011. This Single features Eigenheimer and Frietboer on music and Brad Hamers on the lyrics and vocals. And an accompanying piece of compelling Video-Art made by jdaugh. The wonderful found-footage Music Video has been an Official Selection at over 12 Film Festivals around the world in 2020/2021 so far. Check out the video below.


LYRICS:

to build an island without a flag
to break thrown out bread
to rise up above your own flame to start a fire

imagination can't be killed, only corralled
(new) robot's the same old slave
recently taught how to read
imagine (only) with the master's tongue
our paranoia is free labor
we all work for the gun
religion is table scraps
projection is entertainment
freedom as a new shoulder bag
the more protection, the richer they come
climb onto its feet, close your eyes in its arms
lose all your teeth biting into the sun
declawed freedom free from finding its own value system
code red made of zeroes and ones
the color of blood on a screen that is frozen
can't think past the language that you are from
colonialist in the machines, that we think we have under our thumb

beating back the emptiness with a memory stick,
with the hunted trunk of a back-hoe,
with a zoo-piano carved back into tusk,
bootlegging depression, running sadness like contraband,
third world pop
watch but don't budge
(fucked time)
Full moon over shit street in Gemini
finger in the pie
sell every apple
harden every core
low gloom over Lost st.

brewed in the monkey barrel,
hot off the pressed glass of a rot car , trolling for prisoners, out on payroll,
the cake drips down our thigh
suicide stage left

(all the dead dressed to die, all a mess fret to kill)
head spinning pink in the machine
pile trash to the top)
none left, care right, yeah plight, shake cans, make maintenance, die acquaintances,
coke can, no fam, all sam, call uncle, squat huddle, fumble god sporting hot com dotted sign for,


information with a bang, when napoleon takes the internet,
where Big waistband News breaks beef stew ground standing on
its own gown like live bait and ratings,
mahogany nickels drizzle slow from flush slot machines mating,
perpetual friendly fire, up since the crack in/(of) poor

everything of great importance gets the fanciest most recognizable bandages,
newscorp toilet paper, house hold cast, cell block name,
playwright the pet cat reality, print media stuck up a tree, ……..

driving up church road in an all terrain hearse throwing mirrors at the shade
selling every copy
cross-heart-skiing up bad TV boulevard in a butler's vest
jumping bridges at the break
throw me off the be right back
after this
word to the sponsor
i should sell pony in the ghetto
sell every copy
sell every copy

deflating down Life-Float road in a down comforter throwing pillows at the clock
misspelling every copy
slopping down Sell street in an inbox of cafeteria plate s (and oil spill)
throwing dodge balls at the c.e.o.
(sign every copy)
(sign every copy)

toe in the cake-batter swamp
full Ego over Watch st.
Sell every copy

pennies see everything
watch time like handcuff
money has no eyes for art
some were given blanks so none knew who started the game

a little scratch called itself cabbage and bread, assigned PR to scabs, heard cash-registers when it bled, the pennies we squeeze over everything,, everything drips low-shelf ice-cream, drops care packages no one wants to eat, wonders bomb up like packaged bread, trash gathers at its feet, the how it ends up in our mouth - no one wants to really see,
bahh bahh crack house have you any dream